J.D. has a colorful personality. He often shares with his friends and strangers anecdotes about things he likes and dislikes.
Likes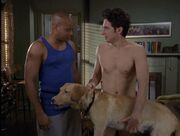 '80s rock band Journey ("My Journey")
Almond Biscotti
Animal Planet ("

My First Step

")
Appletinis

Nectarinis (when J.D. wants a "harder" drink)
Tangerinis (considers this a "real" drink compared to his usual appletini)

Billy Ocean
Black men (not in that way)
Black and white photography
Calling things, situations, and people (mostly his romantic involvements) "Amazing"
Candid Camera ("My Philosophy")
Candy Bracelets
Daydreaming
Describing things as "dynamite".
DMX ("My First Day")
Dr. Dre ("My First Day")
Eating Elliot's mango body butter ("My Way Home")
Elliot's nose ("My Bed Banter & Beyond")
Flow charts (Our Meeting with J.D.)
Gettin' "some"
Grey's Anatomy
Harry Potter (and wishes he was a wizard)
His butt / Turk's butt
His hair
His hands
His journal ("My Unicorn")
Jimmy Walker
Jordan Noble
Justin, his stuffed unicorn ("

My Best Friend's Baby's Baby and My Baby's Baby

")
Katya his pillow girlfriend
Keith's areolas
Leroy (The band) ("My Mentor")
Les Miz
Lost (the TV show)
Macking
Matthew McConaughey ("My Jerks")
Nurse Tisdale's 9:15 cup of coffee ("My Own Personal Jesus")
Pat Benatar
Penguins ("Our White Coats")
Peppering his conversations with cute animal imagery when he is smitten

Porcupine's hiccup
Turtle's wink

Pirates
Playing with words
Repeating everything Elliot says in a weird tone of voice ("My Bed Banter & Beyond")
Rhyming
Rock band Toto ("My Way Home")
Sanford and Son
Sasha, his blue scooter
Scarves
Shower Shortz
Sports grass
Steak Night ("My Last Words")
Stealing from the hospital ("My Fruit Cups")
Stupid Movies
Telling Turk when he has sex
The artist formerly known as Jon Traw
"The Wave"
The way cashmere feels on his skin
Tightie whities
Toast ("Her Story")
Tupac Shakur ("My First Day")
Turk's Spinning Eagles
Unicorns
Wheelbarrow-style ("My Interpretation")
When Dr. Cox winks at him ("My Fruit Cups")
Wolverine/Hugh Jackman
Dislikes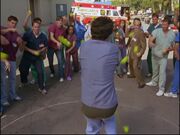 Beer ("My Last Words")
Beets
Courtney Brock
Daschunds ("

My Chief Concern

")
Dragonflies
Escalators
Fake presents as decorations
Gay old guys hanging out on his deck ("

My Mirror Image

")
Geography
His adam's apple
His brother visiting him at work
His brother (period)
His chinless face
His doughy physique
Hot air balloons
Jiggly Ball
Mean People
Micheal Flatley
Movies with Andie MacDowell ("My Butterfly")
Other people dating or having sex with Elliot (or who already have)
Peachtinis
Politics
Scotch ("My Fallen Idol")
Sharks
Sick People
Small rodents
Speed Metal
Todd's High-Fives
Waterparks ("

My Identity Crisis

")
When other people bond with Dr. Cox ("My Chopped Liver") ("My New Role")
Whit Prowdy
Community content is available under
CC-BY-SA
unless otherwise noted.