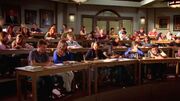 Scrubs is set in a teaching hospital. Education is a primary objective for the interns and residents at Sacred Heart Hospital. Around the hospital, the staff and patients learn lessons about medicine, life, friendship, and love.
In Season Nine, education takes a leading role as the season is set at Winston University, and many of the doctors are professors and three new characters are medical students.
Education as a narrative theme
In nearly every episode of Scrubs, the narrator (usually J.D.) sums up what either he or his colleagues learned from their recent experiences around the hospital. Many episodes typically follow the pattern of the dramatic structure:
Exposition → Rising Action → Climax → Falling Action → Denouement
When characters learn a lesson in an episode, it usually follows a similar structure:
Introduction of Problem → Attempt to Solve → Failure or Success → Consequences → Realization of Lesson
Examples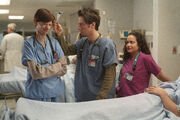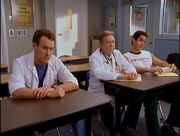 J.D., Turk, and Elliot start as interns at Sacred Heart Hospital after graduating from medical school. ("

My First Day

")
Rounds are conducted to quiz the interns and residents of the hospital.
J.D. learns from the nurses at Sacred Heart, and at a point his knowledge surpasses Carla's. ("

My Nickname

")
J.D., Elliot, and Turk get medical students to shadow them at Sacred Heart. ("

My Student

")
After completing their first year at the hospital, J.D., Elliot, and Turk celebrate the fact that they are residents and no longer the lowest-rung on the ladder as interns, but soon realize they have a lot more to learn. ("

My Overkill

")
Dr. Cox, Dr. Kelso, and Todd are required to attend a sexual harassment seminar. ("

My Tormented Mentor

")
Doug Murphy received an alternate type of education on accident: He became a talented pathologist by accidentally killing so many patients. ("

My Malpractical Decision

")
As residents and attendings, J.D., Elliot, and Turk each develop their own teaching methods to their groups of assigned interns. ("

My Rite of Passage

")
On occasion, J.D. or Elliot try to teach Dr. Cox a lesson, but Dr. Cox waits and watches their strategies fail.
J.D. learns all the names of the entire Sacred Heart staff. ("

My Identity Crisis

")

Sometimes, J.D. does know things that Dr. Cox does not, and can abuse the power. ("

My Dumb Luck

")

Turk learns Spanish for Carla. ("

My Bad Too

")
The Scrubs: Interns webisode series chronicles Sunny's experiences as an intern.