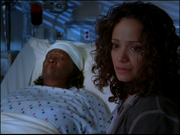 Although Scrubs is a sitcom, it still dabbles with many serious themes including life and death, family, and love. It utilizes several well-established dramatic techniques to tell the story and to move the audience emotionally.
Confessions
The drama in Scrubs revolves around the characters and the different themes that recur in their careers and lives. Many of the relationships between the characters can result in secrets and repressed emotions. The narration can help guide the audience through what the character is feeling. In many episodes Scrubs, after struggling with a problem, a character will confess their true desires or feelings to another character. The vulnerability associated with these confessions, as well as their subjects, typically lead to a dramatic and emotionally moving result.
Examples
Dramatic irony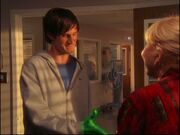 Dramatic irony is similar to comedic irony. It occurs when the audience knows something that a character does not, and this lack-of-information has repercussions on the character. It also occurs when the audience or character expects one event to occur, but the opposite happens. Another example of dramatic irony would be when something happens as a result of a character trying to prevent that something from happening.
Examples
Music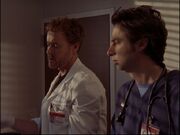 Category: Music
Bill Lawrence himself has said that the use of music in Scrubs can set the mood of a scene better than any other technique. (The Complete Second Season DVD) Typically, at the end of every episode, one or multiple main characters will confront their problems face on. This is also tied deeply to education as a narrative theme.
Examples
Narration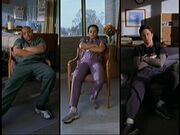 Main article: Narrators
Just as the narration can make the audience laugh, he or she can direct or shape the story to convey certain emotions. This technique is used most frequently during the voice-over at the end of the episode, showing the lessons the different characters have made or need to make.
Examples
Surprise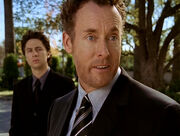 The element of surprise can easily catch a character or the audience off guard. Several emotions can spring from surprise, including anger, sadness, and shock. Surprise can also be used as a comedic technique.
Examples
Suspense
A cousin of surprise, suspense is when the audience or a character is expecting something to happen. The act of anticipation and waiting causes suspense, which can be slightly uncomfortable. It can be waiting for something good to happen or for something bad to happen.
Examples