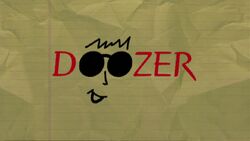 Doozer is the production company which has produced every episode of Scrubs.
About
Doozer was founded and created by Bill Lawrence, creator of Scrubs. Besides Scrubs, Doozer has produced the MTV animation Clone High and Lawrence's ABC comedy Cougar Town which premiered in 2009, and a TV pilot written by Bill entitled Confessions of a Dog.
Trivia
The "bye bye" audio heard over the title are the first words of Bill Lawrence's daughter, Charlotte.