"

Hey, little brother.

"

—

Dan Dorian



Dan Dorian is the older brother of John Dorian.
About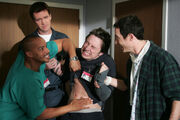 He spent most of his life as a part time bartender living in his mother's attic. J.D. was never proud of him, but glad that he always looked successful in comparison to him. ("My Big Brother") Eventually, J.D. "laid some hard truths" on him. At first, he takes it hard, as he did not want to talk to his little brother. Dan eventually takes one of J.D.'s suits and goes to start his resumé and get a job. ("My New Suit")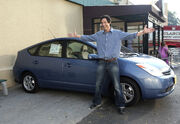 Dan becomes a successful real estate agent; having bought a house for himself and a Prius for J.D. J.D. is at first jealous but then tells Dan that he is proud of him. J.D. then takes Dan to see his nephew Sammy. As they drive back, Dan takes note that his nephew looks just like their father. ("My Inconvenient Truth")
Dan appears in JD's final fantasy. ("My Finale")
Dislikes
Relationships
J.D.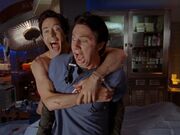 As his older brother Dan was never there for J.D.. As an adult, he is no better (though he once privately warned Dr Cox to treat him better, and said the family always knew he would make it in the world). When their dad died, Dan spent several hours, almost a day, drinking beer in J.D.'s bath tub, leaving only after having a fling with Elliot. ("My Cake") Dan returns the next year and J.D. finally tells Dan to get his life together and lends Dan his suit to go to a job interview. ("My New Suit") Dan returns yet again 2 years later as a successful real estate agent. Having taken J.D.'s advice, Dan buys J.D. a new hybrid car so J.D. can visit Sammy. Now, Dan cares for J.D.'s well-being and looks out for J.D. ("My Inconvenient Truth"). Dan always refers to J.D. as "Johnny", except for one episode where he calls out "J.D." when asked if J.D. is home.("My Cake")
Elliot Reid
Dan went through a period of having sex and romantic experiences with Elliot Reid, causing J.D. to get both annoyed and upset.
Dr. Perry Cox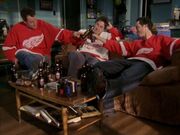 Dan is not impressed with nor scared of Perry Cox. He often quickly retorts to Dr. Cox's insults or rants calling him Coxie or Coxsmith. Dan told Dr. Cox in private to take being J.D.'s mentor much more seriously or Dr. Cox would answer to him. They both helped each other comfort J.D. through the death of his father, where Cox admitted that he was proud of him.
Keith Dudemeister
Dan once nearly had a threesome with Keith Dudemeister and Elliot. We are not sure who called off the event, though it was probably Elliot since it seemed that both Keith and Dan were reluctantly accepting of the idea.
Appeared In
Community content is available under
CC-BY-SA
unless otherwise noted.