The Apartment is the place where J.D., Carla, Turk and once Elliot lived. Currently the only people who live there are Turk, Carla and Isabella, although it is not stated if they moved to the house they planned to move to. It is located at 56 Walnut Drive, San DiFrangeles, California.
About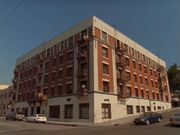 J.D. and Turk were roommates in college, and decided to be roommates as they were interns at Sacred Heart Hospital. The two of them lived together for the next four years, with Elliot Reid often staying on the odd occasion, particularly when she was going through her yearly phase of having a relationship with J.D. Once Carla Espinosa got married to Turk, she also moved in with the two, and stayed there permanently with them - meaning J.D. and Turk couldn't get up to the old antics they used to. After a while of the three of them living together, J.D. was pressured to leave by the other two, although for a brief period, Turk secretly snuck him back inside for a short while, although this stopped when Carla found out. From this moment on, the apartment has belonged to Turk and Carla.
Residents
Rooms
Isabella's bedroom (previously J.D.'s bedroom)
Living Room
Kitchen (part of living room)
Bathroom off of Living Room
Bathroom in Isabella's bedroom
Images
Community content is available under
CC-BY-SA
unless otherwise noted.