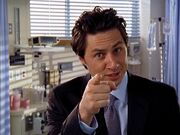 Breaking the fourth wall is when a character talks directly to the audience and acknowledges their presence. Scrubs never directly breaks the fourth wall, but comes extremely close. Many times, meta references are also used in conjunction.
The narration in Scrubs is not breaking the fourth wall; it is a separate narrative technique.
Occurrences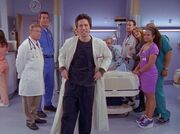 "My Intern's Eyes"
The Season Five premiere is partially told through Keith's eyes. Many characters talk directly to the camera, but since it is an editing technique to make it seem like they are talking to Keith, it isn't technically breaking the fourth wall.
"My New Suit"
In the beginning of the Season Five episode "My New Suit", J.D. points to the camera multiple times, asking how his new suit looks on him. It is revealed that he is talking to different people around the ward. He even points at the camera and says, "Because all that really matters is whether or not America loves it." It is then revealed that he is talking to his tailor, Americo, whose name he is mispronouncing.
"My Mirror Image"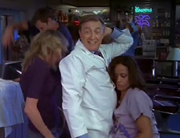 When Turk's phone starts ringing (*NSYNC's "Bye Bye Bye") and the staff starts dancing, Dr. Kelso first yells at everyone, "This is a hospital, not a discotheque!" However, in the next scene, he says, "This is pretty catchy", and appears to be looking into the camera.
"My Princess"
As Dr. Cox introduces the characters to his son, Jack, in the fairytale version of his day, the characters stand and say witty lines. Because this is a fairytale and a form of alternate reality, they are only technically breaking the fourth wall in the fairytale.
"My Jerks"
At the beginning of the Season Eight episode "My Jerks", the first to air on ABC, J.D. points toward the bottom right of the screen, where the ABC bug (

) typically appears, and says, "Oh, that's new!" But it is quickly revealed that J.D. is talking about Janitor's new watch. This is also a meta reference.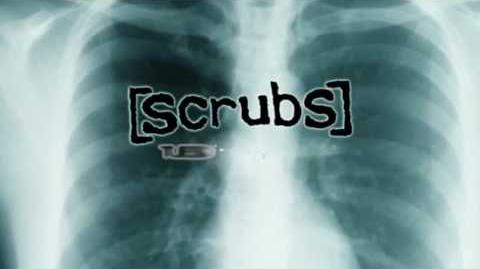 Promotion
During the promotion for Season Nine, ABC produced a commercial that said the characters' "favorite patient" was back. They were really referencing J.D. and "My Finale", with comments like "line the halls with a huge, ridiculous sendoff" and "the cancer can't be back". J.D. mentions that it's medicine and things come back, and there's nothing that can be done about it. Denise, Dr. Cox, Turk, and J.D. break the fourth wall by smiling right into the camera, and Turk asks J.D., "Did you just compare our show to a terminal illness?", indicating that they both know they are on a show.